A coalition of Northwest Indiana citizens have formed a group called NWI Region Resilience. We are fundraising for the Northwest Indiana region to participate in Indiana University's (IU) Resilience Cohort program. If successful we will be one of only a few metropolitan areas in the country to conduct such a comprehensive inventory and the first in Indiana to join the Resilience Cohort as a region.
The Resilience Cohort is a program offered by IU's Environmental Resilience Institute that provides towns, cities, and counties in Indiana the resources, technical assistance, along with the opportunity to apply for an intern to complete a greenhouse gas inventory.
A greenhouse gas inventory is a first step to becoming a resilient community. With a greenhouse gas inventory, communities understand their energy consumption and where their emissions come from and how they can take steps to reduce energy consumption, save money and improve air quality and public health.
We are in phase one of fundraising: Contingency Fundraising. Our phases are the following:
Phase 1: Contingency Fundraising
Phase 2: Targeted Fundraising
Phase 3: Climate Action Plan Fundraising
Phase 1: Contingency Fundraising will focus on fundraising estimated amounts for Resilience Cohort participation for towns, cities, and counties in Northwest Indiana. We will prioritize donations to communities based on a combination of factors: first come first serve (communities that have formally expressed interest in participation), highest environmental impact and financial need.
Once costs for Resilience Cohort participation have been finalized, we will begin Phase 2: Targeted Fundraising, where the focus will be to fundraise the minimum costs for communities to participate. The fundraising goal will change based on finalized costs and any additional communities that wish to participate.
Any fundraising that goes above the fundraising goal will trigger Phase 3: Climate Action Plan Fundraising. Donations will be dedicated to cohort years where IU provides resources, technical assistance and an intern to create a climate action plan. Communities are eligible to participate once it completes a greenhouse gas inventory.
The Lake County Council recently passed a resolution in support of the Northwest Indiana Regional Planning Commission facilitating participation for the Resilience Cohort. Our contingency fundraising efforts will for the moment focus on Lake County and other interested Lake County municipalities.
Our contingency fundraising goal is $5,000:
$1500 for intern program contribution
$700 for administrative costs to house intern
$2,800 for Lake County plus two additional municipalities in Lake County
Total: $5,000
Our initial goal is $1500 to prove we have support sufficient to cover the intern contribution fee. We will set "stretch goals" once that is accomplished.
Earth Charter Indiana has agreed to be the fiscal sponsor for this project and will not charge a processing fee. The application is due in December and award notices will be made in January 2021, which is when all funds raised will need to be submitted.
Join us in bringing a greenhouse gas inventory to the Northwest Indiana region. Let's send a signal to our elected officials that the Region wants a greenhouse gas emissions inventory.
This inventory is a win-win. It's affordable, it better informs our elected officials and it challenges us to plan for a more resilient future. Let's be proactive. Let's be prepared. Let's protect our environment and secure our future!
Please contribute what you can and encourage others to donate. Even $5 would help, although more would certainly be appreciated.
If you would like to make a donation via check, please make the check out to "Earth Charter Indiana" and write "NWI Region Resilience" in the memo section. Checks can be mailed to:
Earth Charter Indiana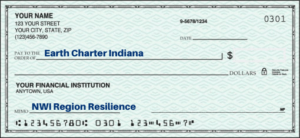 1100 W. 42nd street Suite 220D
Indianapolis, IN 46208