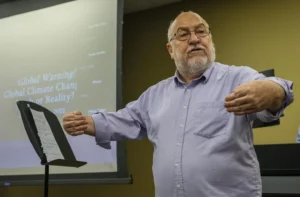 Kim Skipes, photo by John Watkins, The Times
Professor Emeritus, Kim Skipes, who has taught in PNW's sociology department since 2004, officially retired last May. However, this fall he returned to teach the Environment and Social Justice class one last time.
Molly Devore of the NWI Times, was there to cover when Scipes decided to end the course this year with a panel discussion led by students.  The panel, held Thursday, was a combination of both the Westville and Hammond campuses: Hosted in Hammond, Westville students participated via Zoom.
Click here to read the full story.